To enable us to provide the best test results for your sample materials, please ensure that:
a. You fill out all sections of this form
b. Follow the instructions below regarding the sample material
c. Include the complete document with the sample material – a PDF will be sent to you to print
Important Note:
Please handle the samples with great care. Fingerprints and contamination will affect the test results.
Quantity:
a. Min. 10pcs per material or as specify quantity as quotation
Sample size requirement:
a. Thickness up to 200 μm: A4 size sheets of each type of material
b. Thickness above 200 μm: A3 size sheets of each type of material
Marking:
Ensure that all sheets are clearly marked by:
a. Cutting all sheets as shown below
– or –
b. Writing "Front side" on all sheets
c. Writing Material type – if more than one material type is forwarded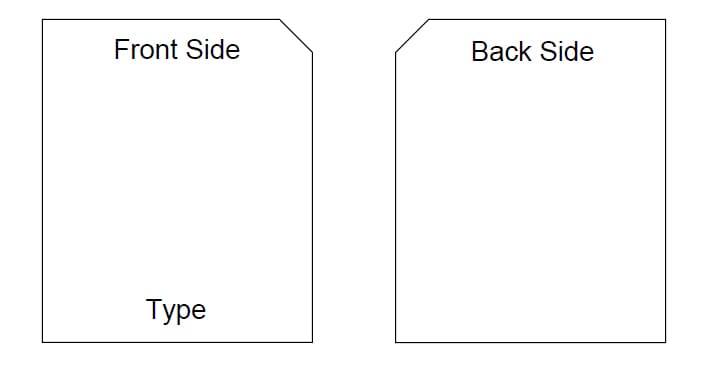 Condition:
Ensure that all sheets are completely free from:
a. Wrinkles
b. Dirt
c. Finger prints
Sample forwarding address:
Vetaphone A/S
Attn.: Sales Department – Sample Testing
Fabriksvej 11, DK-6000 Kolding, Denmark
Phone: +45 76 300 333 / E-mail: [email protected]