Converting
The Corona Surface Treatment is essential in converting processes.
In the fiercely competitive retail landscape, the significance of Corona surface treatment in converting processes cannot be ignored. Brand owners striving to sway consumer preferences recognize that high-quality images and presentation are non-negotiable. In order to achieve the best shelf appeal, packaging quality is vital. This is where converting machine and equipment manufacturers step in, delivering top-notch solutions that ensure premium packaging and elevate a product's chances of success on the market.
In the realm of packaging conversion, the process of converting involves working with non-absorbent substrates like film, foil, or metallized paper and board. Prior to utilization in inks, varnishes, lacquers, lamination, or other converting techniques, these substrates must undergo surface treatment to ensure a secure adhesion. Achieving a consistently high-quality finish is paramount in this endeavor. For this purpose, converting machinery and web converting equipment play a pivotal role in facilitating the surface treatment process, resulting in impeccable end products.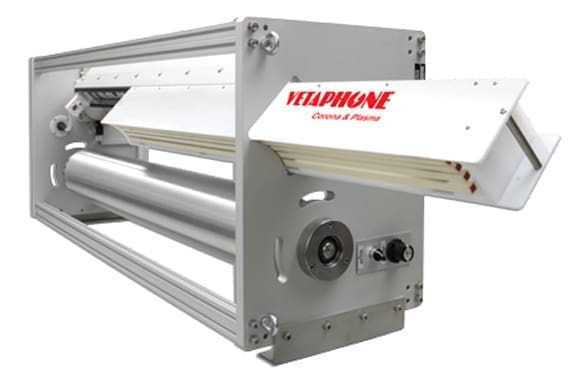 Download Datasheet
Advanced Solutions for Complex Substrates
Here at Vetaphone, we have two options that will fulfil all of your requirements. For the majority of applications Corona treatment is the answer. Pioneered by us in the 1950s we have unparalleled knowledge and expertise in Corona treating a wide variety of substrates to guarantee surface adhesion, whether on untreated material, or stock that has been pre-treated but requires a boost to ensure the correct dyne level is achieved before processing.
For some of today's more complex substrates, where the surface chemistry requires an alternative process, we offer Plasma treatment that uses a controlled environment and inert gas to achieve a higher dyne level.
Corona Treatment Converting Features
Easy maintenance
All our stations are designed for easy maintenance to enhance your productivity
Flexibility
Upgradable performance and a wide range of options ensures the system fulfills your exact requirements
UL Recognised Components
Equipped with UL recognised components
Intelligent Control
Our unique range of iCorona generators offer easy and intelligent control of the Corona process
Guaranteed Support
Whenever the need for support arises our qualified and experienced technicians are never far away from you
WATCH OUR CORONA TREATER FOR CONVERTING IN ACTION
Case Studies
KYMC
Kuen Yuh Machinery Company Ltd (KYMC), which celebrated its 50th anniversary in 2018, is one...
Worthen Industries
Worthen Industries Inc has more than 150 years of experience in the adhesives and coatings...
We knew exactly what we needed – Vetaphone listened and responded in the same way that we do with our customers – and, they were the only manufacturer to offer a performance and dyne level guarantee on the material we use. That shows real confidence in your product.

SPECIALITY PRINTING / MR FRANCIS POIRER, SENIOR VP OPERATIONS

As demand continues to evolve and new substrates enter the market, Vetaphone systems allow us to run many more types of films and meet our ever-growing customer needs. The fine control offered by Vetaphone Corona technology plays an important part in helping us deliver improved printing and coating quality, and stronger lamination strength, thus bolstering our position in demanding technologies such as automotive and conductive films markets.

TRANSCONTINENTAL ADVANCED COATINGS / MR GEORG ROSE, VICE PRESIDENT, GLOBAL SALES & MARKETING

We have very strict and demanding specifications that have been successfully achieved during our comprehensive tests. We are more than pleased to welcome on board the talented group of professionals from Vetaphone, with the latest state of the art technology products.

COMEXI (ES) (OEM) / MR CARLES RODRÍGUEZ, BRAND MANAGER

We operate 78 lines here on a 24/7 basis, so reliable technology is essential. Our experience with Vetaphone equipment has been outstanding. It is easy to use, robust, and excellent value for money. It also takes away one of the production variables.

CEDO SP. Z O. O. / MR ANDRZEJ MAJEWSKI, SITE DIRECTOR

We see Vetaphone as the market leader and re presently investigating ways to fully integrate its technology within our machine lines. This will save costly space on the production floor, and improve functionality for the operator. We would do this only with a supplier whose technology matches our own in terms of quality and reliability.

DAE KWANG / MR TAE SIK BAE, PRESIDENT

Our business is very specialized, with customers placing high emphasis on quality and reliability, while at the same time looking for turnkey solutions. In these circumstances it is vital that the integrity of our sub suppliers' technology matches that of our own products. In Vetaphone we have found an excellent synergy that dovetails with our own rigorous quality control.

NEW ERA CONVERTING (US) (OEM) / MR BOB PASQUALE, PRESIDENT

We have enjoyed good on-site training and after-sales support from Vetaphone, but most of all we are working with a supplier that provides a service not just a product. They were key to the smooth installation process and helped with UL accreditation. It was a real bonus for us to join forces with them and it surely speaks volumes for their commitment to the US market.

TRANSCONTINENTAL ADVANCED COATINGS / STEPHEN BARNETTE, PROCESS ENGINEER

Many suppliers offer only standard products, but with Vetaphone we have been able to refine specification to suit our exact requirements. We also appreciate the after sales support and programme of continuous improvement from which we have benefitted over the years with various upgrades.

CEDO SP. Z O. O. / MARIUSZ RUCINSKI, PROJECT MANAGER