Narrow Web
If you are a label printer you will know how important a quality print job is to your customers.
But the problem is that some of the substrates you use are plastic or foil based, and both create problems with ink and lacquer adhesion. This is because the surface energy of the material prevents the creation of a proper bond – in simple terms, it doesn't stick well.
To create the quality of label that you want to sell to your customers requires good preparation, and an essential part of that is Corona treatment of the surface of the substrate you are using. Vetaphone high-quality Corona systems are accurate and controllable to ensure you are always applying exactly the right level of treatment in a situation where too much is as bad as too little.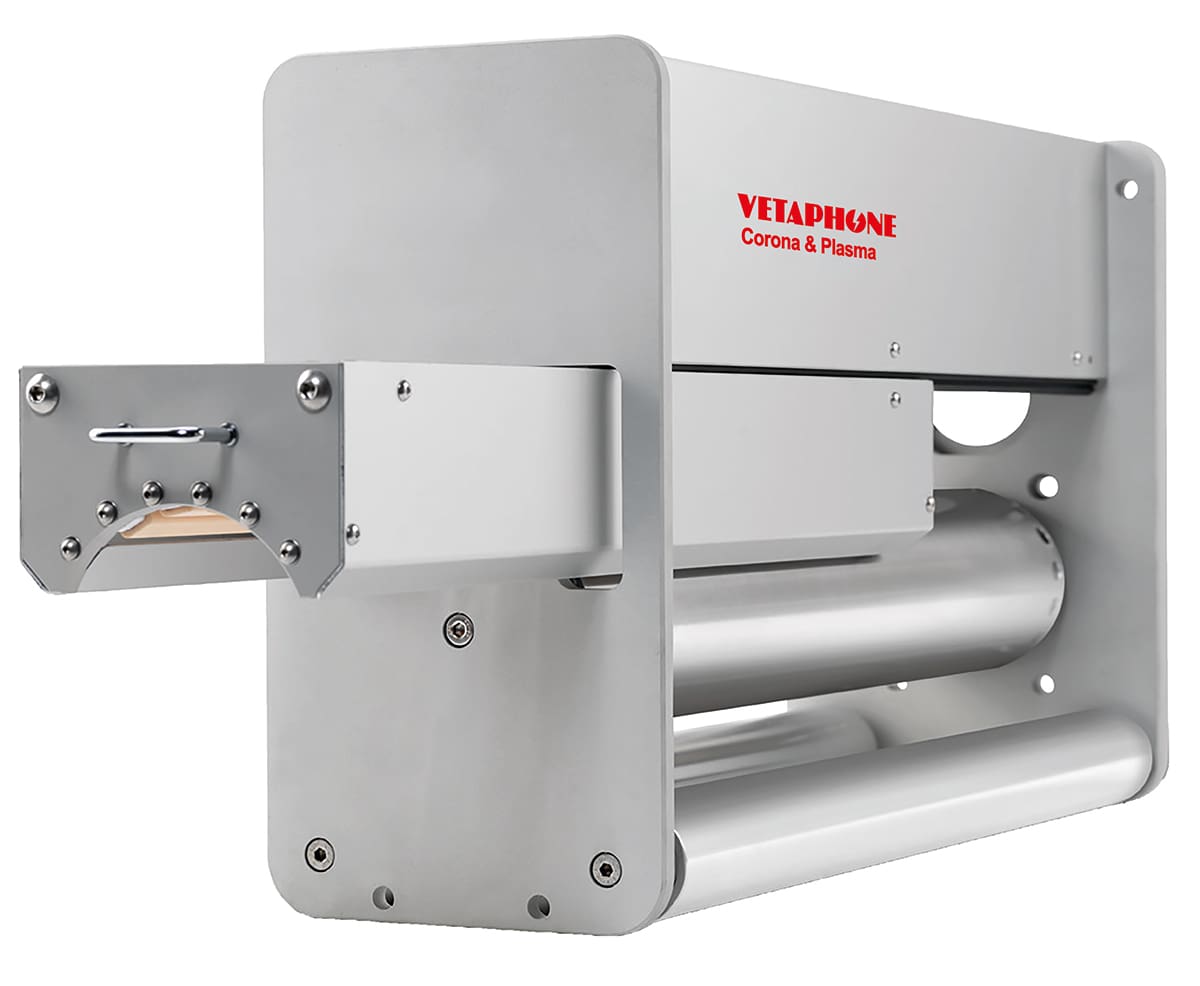 Download Datasheet
Even substrates that have been treated prior to delivery can cause problems if the dyne level (surface adhesion) has decreased because of heat or humidity during transit or storage. This will prevent you from running your narrow web press at full speed and as a result cost money. By Corona treating all stock on-press prior to printing you can be confident of a perfect result every time. The same applies to top-coated stocks, which, because they use expensive chemicals, are costly to buy. Corona treating on-press often removes the need to buy these expensive materials.
Features
Easy maintenance
All our stations are designed for easy maintenance to enhance your productivity
Flexibility
Upgradable performance and a wide range of options ensure the system fulfills your exact needs
UL Listed
UL listed versions are available
Intelligent Control
Our unique range of iCorona generators offer easy and intelligent control of the Corona process
Guaranteed Support
Whenever the need for support arises our qualified and experienced technicians are never far away from you
Watch our Narrow Web Corona treater in action
As the principal manufacturer of narrow web presses in the western world, and a global market leader in flexo technology, it is essential that ancillary technology fitted to Mark Andy presses meets our own critical standards of performance and reliability. The quality of Vetaphone design and engineering makes them our preferred supplier of corona equipment for all Mark Andy presses in Europe

MARK ANDY / MR TOM CAVALCO, MANAGING DIRECTOR (EUROPE)

Vetaphone are a key OEM supplier to AB Graphic, in the time that we have worked together their Corona treatment systems have been of a consistently high standard of quality. They have assisted us with good sales support, engineer training and technical back up providing an all-around service that surpasses our expectations. I am happy to say that to date Vetaphone has been one of our best suppliers and I look forward to a long and beneficial relationship.

AB GRAPHIC INTERNATIONAL / MR DAVID KIRKHAM, DIRECTOR

They deliver a better finished and press ready product than other suppliers. We chose to specify Vetaphone Corona Treaters on all Edale presses for a number of reasons. We have had a long standing relationship with Vetaphone and in this time have always received good support and had no problems with reliability of the units out in the field.

EDALE / MR JAMES BOUGHTON, MANAGING DIRECTOR

As substrates become more complex and additional special processes are required, we need to have absolute confidence in the quality of surface treatment. If you are wanting to run filmic materials at speeds in excess of 200m/min, the power and controllability of the corona system have to be perfect – our experience with Vetaphone products give us the confidence to make production promises to our customers.

NILPETER / MR JESPER JØRGENSEN, GLOBAL SALES MANAGER